I seem to have signed up for a few BOMs this year (!) They are all pattern only in an effort to use up some of my ever increasing stash, why is it no matter how much I use, my scrap baskets never seem to empty??!?
In recent years I have started to enjoy working with a more modern vibrant palette and have accumulated lots of scraps from various projects, number one on the list starts on 1st March and is by Jodi at Tales of Cloth - Sunshiny Day Jodi specialises in EPP cut from recycled paper and while I admire her eco credentials I find EPP hard on my hands so instead I have opted to hand piece this one. I am planning on a totally scrappy version using lots of modern low volumes and bright scraps.
I have also signed up for Sarah Fielke's new BOM Rainy Days and Sun Rays this is the sketch by Sarah, I did buy a FQ pack to get me started but will pad out with fabrics from my stash. I have really enjoyed stitching with Sarah over the last 5 BOMs I really like her down to earth Aussie attitude :) and her patterns are fun to make!
I discovered a new to me app called Recolor it was fun and easy to use, this is where I am heading with colours ...
My real life quilt group (Queen Bee Quilters) have decided to stitch a quilt together next year and have chosen
Dashing Dutchman by the Crafty Nomad
here in the UK. I am not sure about fabrics for this one and will probably stop after the centre section as I am not keen on the final border, but it will be fun to sew along with my fellow Bees, I have pulled all my bright scraps and ordered a Navy Background.
This is Moda Grunge Hits the Spot in Navy
And finally ! as a member of
The Quilt Show
I get the BOM pattern for free each year, I think I might have a go at this one again using lots and lots of scraps.
with maybe this antique London map fabric for the backing, London by Whistler Studios for Windham Fabrics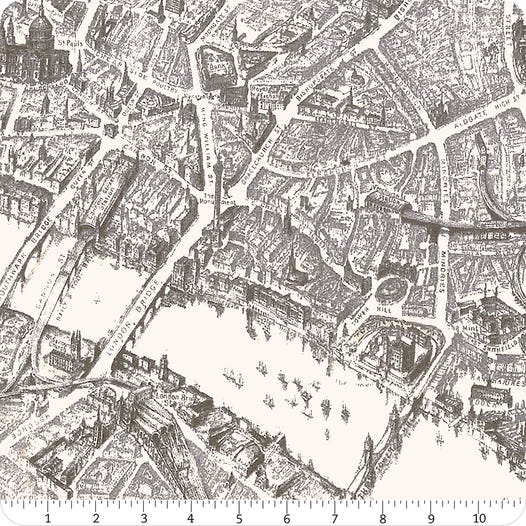 I think that should be more than enough to get on with!